June 11-14, Archbishop of Naro-Fominsk, Justinian, Administrator of the Patriarchal Parishes in the USA conducted an archpastoral trip to Washington. On June 12, His Eminence led the Divine Liturgy service in Holy Trinity Church in Baltimore, MD. At the Liturgy concelebrating with His Eminence were Priest John Vass, Rector of the parish, Archpriest Theodore Boback, Rector of St. Andrew Church (Orthodox Church of America), Igumen Joseph (Kryukov), Secretary of the Patriarchal Parishes, Archpriest Evgenii Goncharenko, Secretary of His Eminence, Protodeacon Igor Panachev of St. Nicholas Cathedral in NYC and Deacon Michael Bishop of the parish.

At the conclusion of the Liturgy, Fr. Rector John Vass addressed His Eminence with words of greeting, in which he expressed gratitude of all the members of parish that Vladyko after being in America for just a very short time found it possible to visit among the first parishes Holy Trinity church. In response, His Eminence Justinian thanked the rector and the many parishioners for the joy of their collective prayer and cheerful reception. Also, he expressed hope that the example of the parishioners of the parish who gathered in church on a Saturday, although not typical for the United States, would become an example for the other Patriarchal parishes.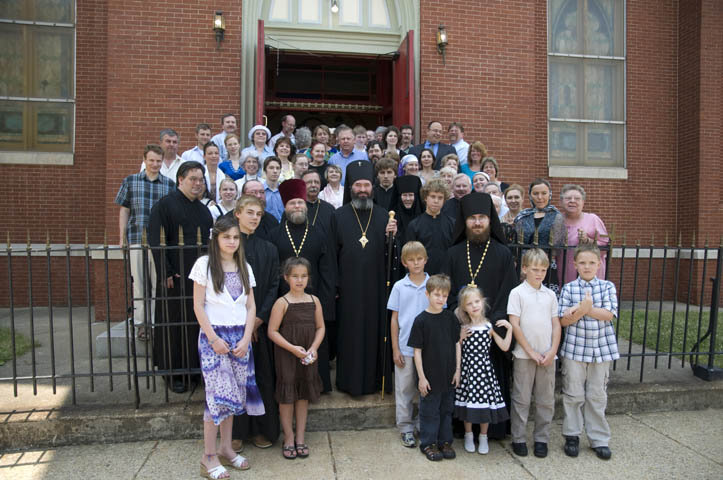 After the Divine Service, the trapeza was offered in the parish hall of the church. Then, His Eminence Archbishop Justinian visited St. Andrew church of the Orthodox Church of America, where that day Baltimore's Orthodox Bible Bowl was held. Participating in the competition were children of the local parishes of the Patriarchal Parishes, Orthodox Church in America, Antiochian Orthodox Church and Ukrainian Orthodox Church under Constantinople. Before the beginning of the competition, Vladyko Justinian addressed the attendees with parting words and gave his blessing.

That evening at the invitation of Archpriest Victor Potapov, His Eminence Archbishop Justinian visited St. John the Baptist Church in Washington of the Russian Orthodox Church Outside of Russia, where he prayed during the All-night Vigil. The next day, His Eminence led the Divine Liturgy during which Fr. Victor Potapov, clergy of the parish and the clergy of the Patriarchal parishes accompanying the Archbishop concelebrated. After Liturgy a festive lunch in honor of the archpastoral visit took place in the parish hall of the church. Then Vladyko Justinian answered questions from the parishioners.
http://www.russianchurchusa.org/
Translation/edits by Priest John Vass